Festivities not only bring times of fun but tension as well if you are a mother-to-be. With almost 25 years of experience in the field of pregnancy, I bring to you the do's and don'ts to play a safe and healthy Holi. Don't worry! You don't have to be sitting in a corner looking at everyone else play. But, you certainly need to follow some precautions to avoid any complications, as these are essential for the health of your unborn little loved one.
1. Play Holi with Herbal/Organic colours
Chemical-ridden colours can harm the fetus through the bloodstream. They impart harmful chemicals like copper sulphate, lead oxide, and mercury through the air you breathe while playing.
Additionally, chemical colours seep through your skin and can affect your nervous system as well. Thus, it is recommended to avoid synthetic colours and opt for only herbal colours. As a bonus, herbal colours might improve your skin with the nourishing properties they have. Want to know how you can make organic colours at home? Keep reading till the end to find the easy methods to make your favourite Holi colours.
2. Do not consume deep-fried sweets and snacks
Avoiding deep-fried foods, especially the sugary ones, has always been a health hack. It is a piece of advice recommended to everyone out there. So, if you are an expecting mother, you must know how crucial this piece of suggestion is for you to follow. That too, especially if you are someone who is overweight or has Gestational diabetes.
The foods you need to avoid include spicy chaats, Bhang, caffeinated beverages, paan, laddus and other sweets made in ghee. These kinds of foods are dangerous because they might cause indigestion and lead to an upset stomach. Avoiding these foods is important to avoid minor complications that you and your unborn might have to face during pregnancy.
3. Stay away from watery areas and large crowds
With too much water on the floor around you, there is an increased risk of slipping that may further damage the fetus. Large crowds pose the same issue along with suffocation. This problem might trouble you, especially if you are claustrophobic.
4. Make sure your eyes are safe
Protect your eyes with the help of clear glasses or sunglasses. Doing this is crucial because the dry colour powder or watered colour may cause extreme irritation in case of direct contact with your eyes. The consequence may be an impaired eyesight.
5. Protect your skin
Even if you aren't pregnant, it is essential to cover your skin with a thin layer of oil. This action is to ensure that the harmful colours do not get absorbed by your skin. Not only does the absorption of synthetic colours lead to dry skin but also allow toxic chemicals like Aluminium Bromide, Mercury Sulphite, and Copper Sulphate to enter your bloodstream. Additionally, you should make sure to apply SPF as it will help your skin against the harmful UV rays of the Sun while you enjoy the festival outdoors.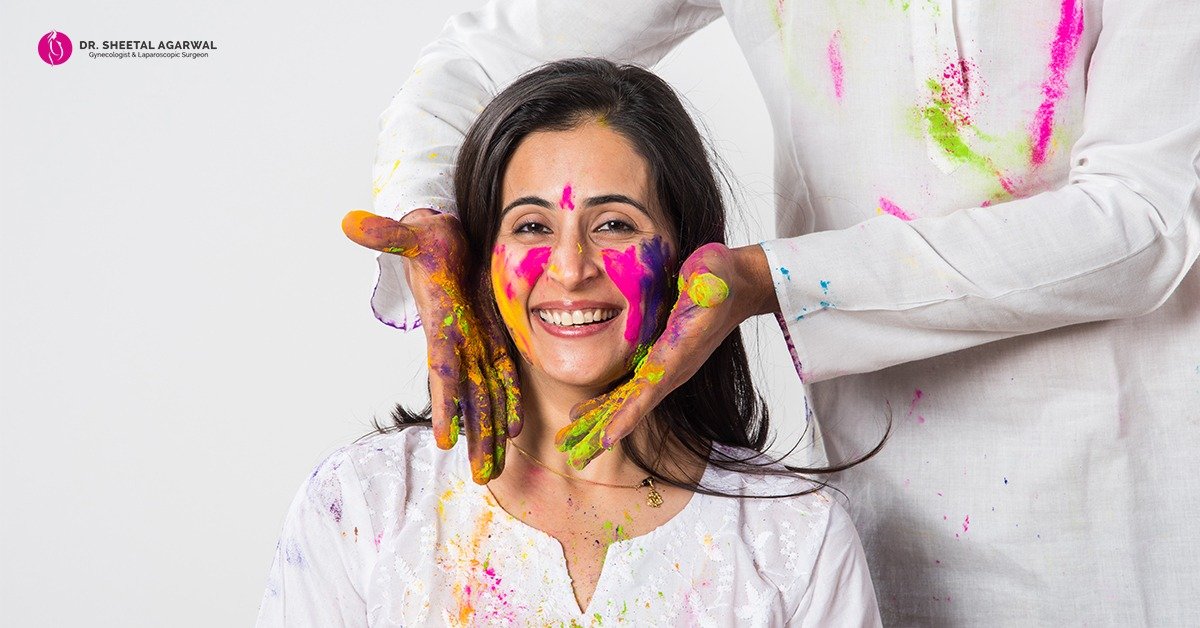 6. Hydrate the right way
No wonder, hydration is crucial both for your fetus and yourself. However, during the festivities, you might wish to consume Bhang to curb your thirst and engage your taste buds. Drinking Bhang is not recommended as it contains Cannabis. Drugs like these are not healthy for you especially during pregnancy. Therefore, healthy fruit juices, coconut water, or even regular water are your recommended hydration options.
7. Consult your Gynaecologist
If you have any complications or diseases during pregnancy, then only your gynaecologist will be able to give you the best advice regarding how to play Holi healthily. That's because her suggestions won't be general but will cater specifically to your case and scenario.
Also, in case of any emergency during the Holi festivities, consulting your gynaecologist right away will help you more than any general advice here on the internet.
As Promised- Colors which you can make at home naturally!
In this day and age of adulteration seeped into the market, it is difficult to find authentic herbal colours to play with. Sometimes, colours containing black henna are labelled as organic. But they are not as wholesome as they seem. Because the chemical para-phenylenediamine in henna can lead to allergic reactions. Owing to such a scenario, it is difficult to trust the market for natural colours.
Fortunately, you can easily make your own Holi colours at home. Thus, ensuring they are organic and safe.
Dry colours to make at home.
● Green: Crush methi (dried fenugreek) or pudina(dried mint) leaves finely to make your own dry green colour to play Holi with.
● Orange: Use ground powder of dried Fame-of-the-forest (Tesu) flowers for a sun-like orange colour.
● Yellow: Create a mixture with equal proportions of the golden spice- Haldi (Turmeric) powder and Besan (Gram flour) for a light and subtle yellow colour.
● Red: Make a melange of sindoor (Vermillion) powder with (Atta) wheat flour or Maida (refined flour). A different option is to mix wither of these flours with red sandalwood powder to get the perfect red colour.
Those were the must-know tips to enjoy the Holi festivities if you are expecting soon. In case you have any questions, feel free to call me or book a consultation with me, Dr Sheetal Agarwal, for answers.
Wish you a Happy and Safe Holi!