Imagine yourself in the past era that didn't give us the opportunity and freedom to use technology like we do today. What do you think would have happened if the corona virus (COVID19) pandemic had hit back then? How were we supposed to be locked down in our houses without interacting with our friends on social media or our loved ones on video calls? Today almost everything can be done with the help of an app. A gynaecology consultation as well.
Yes. Won't it be a pity to not utilise the technology of our phones if we need a consultation from a doctor? That's why we bring to you a way with which you can consult Dr Sheetal Agarwal online without stepping out of your house. Yes, you read that right. You don't have to wait till the lockdown ends for that gynaecology consultation you need. After all, no one knows when exactly the pandemic will end. Yet, we should all hope for the best.
Things you need to take care of during the online consultation.
1. Feel comfortable.
Not many patients in India have experienced online consultations before. Whether you are one such patient or not, please keep in mind that it is extremely important for you to stay comfortable during the online consultation. If you are worried whether the consultation is safe and secure, allow us to inform you it is completely secured. Everything you talk about during your consultation is as private as it is when you visit the doctor personally.
2. If the doctor asks, share all reports.
Many-a-times, the gynaecologist might require to see your past medical reports. Knowing your medical history is important for her in order to better judge your problem and find the best treatment. So, make sure to ask the doctor once if she needs any such reports and send it to her via email or WhatsApp.
3. Tell all problems you are facing or questions you have in detail.
This aligns with the first point mentioned of feeling comfortable. The doctor won't be able to give you the best possible solution for your issue without knowing everything about it. Yes, even the nitty-gritty details matter. More so, because the doctor is not in front of you and cannot examine your body. So, it is only you who can help yourself get the best advice from the doctor by telling all your gynaecological problems in detail.
4. Answer all of the doctor's questions in detail.
Now because the doctor can't examine your body on an online consultation. You will have to make sure she has no doubts about your issue. So, whatever questions she asks, please answer them unhesitantly so as to receive only the perfect advice to treat your issue.
5. Make sure you aren't distracted.
To ensure all the above points are taken care of, you need to give all your attention to the online consultation. When at home, the possibility that you may be distracted by other stuff going around you is more. From children to partners, work to parents, there are many things that may take your mind's attention. Especially because we all aren't used to living like this, locked down in our houses. So, make sure you pay full attention to what the doctor has to say during the online consultation.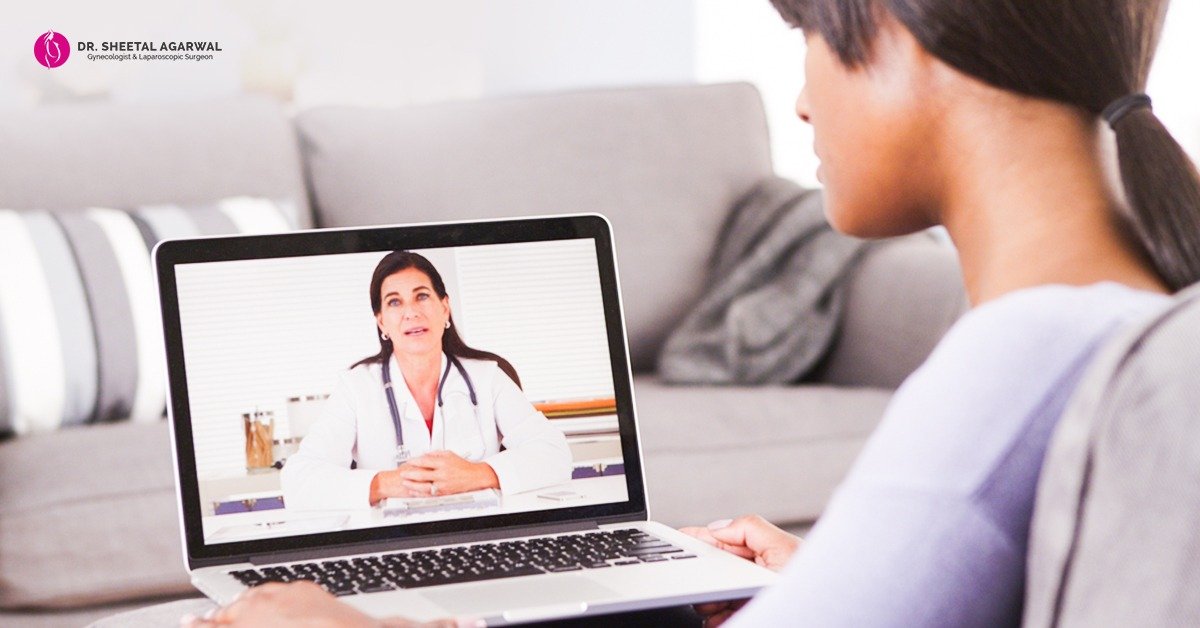 How does it work?
Do not worry, if you haven't had any online consultations with doctors before. We have a very simple way for you to connect. It's an easy peasy three-step process.
Step 1. Click on the 'Consult Online' button on the website. Scan the QR code or use the UPI id mentioned to pay the consultation fees of Rs. 1000.
Step 2. Share the receipt or screenshot of the payment on the WhatsApp number: 9899008790. Don't forget to add your UPI Payment ID as well.
Step 3. Look out for a call that we make to you. As soon as we verify your payment, we will connect you with the doctor.
That's it. Follow these simple steps and talk to Dr Sheetal Agarwal in no time. If the doctor prescribes any medicine, make sure to order them online or visit a nearby medical store to get them.
Do not worry and think if your problems are solvable with online consultation or not. Whether your problem is related to fertility, periods, menopause, sexually transmitted infections, polycystic ovarian syndrome, cancers related to the reproductive organs, endometriosis, fibroids, hormonal imbalance or anything else. An online consultation will take you a step ahead towards better health and a better life, especially during the lockdown when everything is at a halt.
Also, stay assured about the skills and expertise of Dr Sheetal Agarwal. With almost 25 years of experience in the field of obstetrics and gynaecology, she has treated innumerable women who are now happy with their body and life. She has an MBBS, DNB and MNAMS and is also a member of various reputed gynaecology forums. Rest assured, she will help treat your issues with all her compassion and skills for you.
Yes, these COVID19 times are taxing. But if we all pray and work together, the world will heal sooner. Your number one duty in these times is to stay at home unless you can't help going outside. We all need to do this to fight the corona virus and conquer its scare. Let's do this together. We are online for your problems and questions.
Get going! Get all your queries resolved on an online consultation today!